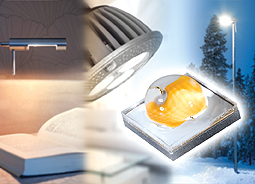 The Oslon Square, OSRAM Opto Semiconductors' new LED, offers a wide range of possible uses, including designer luminaires for the home or office, retrofits and street lights. The LED is available in many different versions with different color temperatures. It can be operated with different currents, making it extremely versatile. Its reflective package makes even better use of the light and increases system efficiency in all versions. The Oslon Square is available at distributor Rutronik now.
The Oslon Square measures only 3mm x 3 mm, has a low thermal resistance of 4K/W to 3.8 K/W and is accommodated in a robust package which is suitable for outdoor use. The LED chip is enclosed by a reflective package that reflects light emitted at the side or at the back so that this light is usable. The Oslon Square EC is suitable for indoor applications in which a high quality of light is needed, for example in offices. With a color temperature of 3000K it provides a warm white light and also offers high color stability over a wide viewing angle (120°). The CRI is at least 80. If the lighting needs to be particularly uniform a "fine-bin" order can be placed for this LED. At an operating current of 700mA it achieves an efficiency of above 90lm/W and a luminous flux of 200lm and more. At 350mA its efficiency passes the 100lm/W mark. The EC version is also suitable for retrofits. Thanks to its small dimensions it can be closely clustered and, like all the LEDs in this series, it benefits from its reflective package, both individually and within a system. The Oslon Square PC and UW are designed for outdoor applications, i.e. in street lighting. They can be operated on currents of 200mA to 1.5A, making them interesting for other applications such as downlights and spotlights. The LEDs produce a neutral white to cold white light with color temperatures of 4000K and 6000K. And at 130lm/W from 350mA they are even more efficient than the warm white version. With a CRI of at least 70 (4000K) and 65 (6000K) these LEDs combine good quality of light with high efficiency.
All product information stated in the current press release is based on the franchise situation in Germany. Country specific variations may therefore be possible.
Rutronik
www.rutronik.com