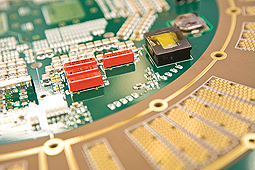 Multitest, a designer and manufacturer of final test handlers, contactors and load boards used by integrated device manufacturers (IDMs) and final test subcontractors worldwide, will exhibit its leading test solutions at the upcoming Burn-In & Test Strategies Workshop, scheduled to take place March 4-7, 2012 in Mesa, AZ.
At the show, Multitest will showcase the most comprehensive portfolio of contactors on the market. Multitest's Quad Tech™ features:
• Four internal contact points
• Planar contact surface
• Excellent mechanical characteristics
• Excellent electrical characteristics
• Ultra precise manufacturing process
The Multitest Cantilever features:
• Springs offer a self-cleaning effect (scrub)
• Optimum set of critical contact parameters: geometry, coating, force, scrub and surface
The company also will highlight its test interface boards, offering the perfect solution for simulation, design and fabrication of test interface boards including:
• Fine-pitch applications
• High layer count requirements
Multitest's Plug & Yield® program ideally leverages the unique, comprehensive product portfolio and the in-depth understanding of the industry's needs. Total project management and concurrent engineering as well as engineering and quality control on the system level — rather than on test cell components — result in the best time-to-market, optimum performance of the overall test cell and highest yield.
Multitest
www.multitest.com