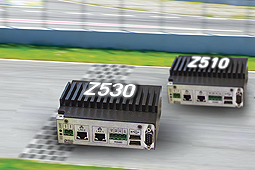 DSM Computer has extended its compact H1-A rail-mounted PC family with a higher performance variant that incorporates an energy-saving Intel® Atom™ processor Z530 (1.6 GHz). The standardized installation capabilities allow the computer that is 90 mm high and only 41 mm (55 mm with cooling fins) deep to be installed very quickly in electrical-equipment or switchgear cabinets. With a width of 122 mm (7 U), the IPC – in a robust, high-quality aluminum housing – can be installed under the rail-mounting standard cover.
In addition to the processor, the Qseven™ module of MSC Vertriebs GmbH installed in the H1-A integrates a 1 GB DDR2 RAM and an Intel® US15W SCH System Controller Hub with integrated Intel® Graphics Media Accelerator GMA 500. A 3.6 GB flash memory permits the implementation of embedded operating systems, such as Windows® POSReady, Windows® Embedded Standard and Linux, as well as the storage of user data. The Qseven® module is equipped with a TPM (Trusted Platform Module) for protection against unauthorized external access. To achieve an optimum heat dissipation, the small 70 x 70 mm embedded module is directly connected with the computer housing.
The rail-mounted computer provides two fast 1000 Base-T LAN connections, two USB 2.0 ports and a serial RS232 connection. If required, a second RS232 can be implemented instead of the existing VGA interface. Like the 24 V DC power supply, the two RS485 ports are equipped with a plug connector with an insulation-piercing connection and are metallically separated to compensate for potential differences. The VGA interface can be used to connect a control monitor for commissioning and for maintenance purposes. The user data can be saved on the onboard flash memory or on an SD card.
Designed for the reliable continuous operation, the robust rail-mounted PC family can be deployed as gateway and communications computer, Web server or distributed control unit in the process automation, plant control, power engineering, building automation, smart metering, electro-mobility and cloud computing application areas.
DSM Computer GmbH
www.dsm-computer.com