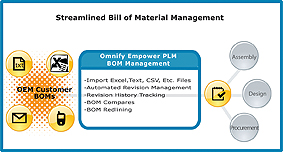 ACD, a leading supplier to the electronics industry, announces that it has successfully implemented the Bill of Material (BOM) and Data Management solutions from Omnify Software, a leading provider of Product Lifecycle Management (PLM) software for electronic, medical, mechanical and defense manufacturers.
"ACD has positioned itself as a medical and military EMS provider with a customer-friendly service model. Omnify's Bill of Material and Data Management software brings our internal controls head and shoulders above our peers as wells as our billion dollar competitors while enhancing our customer service," commented W. Scott Fillebrown, President & CEO of ACD.
ACD has implemented Empower PLM with the initial goal of centralized BOM control. The company wanted to address issues common among many EMS providers such as trying to manage the various BOM file formats they receive from customers, getting updated BOM information via e-mails or phone calls without traceability, and multiple versions of the same BOM existing across departments. By adding the Empower PLM Data Management and BOM Management solutions to the existing Change and Document Management solutions, ACD is able to better serve its customers and gain a competitive edge.
ACD now has a single, controlled environment for creating, changing and sharing product information across all groups and with its customers. With the ability to import all customer BOM files, whether it is in spreadsheet, text or other format, and have Empower PLM automatically display the differences, highlight any issues and manage the revisions and history, ACD can ensure the BOM is accurate as well as make sure all departments have access to a single, up-to-date BOM. Automating its BOM and product data management processes has enabled ACD to tighten collaboration with its customers through instant communication of information and eliminate issues such as scrap, rework and assembly delays due to incorrect BOM data. This results in the ability to faster deliver high-quality products to OEM customers.
"ACD is really setting themselves apart from their competition," stated Jack Rowntree, COO of Omnify Software. "By moving from e-mails and phone calls to a structured BOM and revision management system, ACD can better identify issues that impact time and cost, respond more quickly to changes and help its customers meet or even exceed their product goals."
ACD (Automated Circuit Design)
www.ACDUSA.com
Omnify Software
www.omnifysoft.com