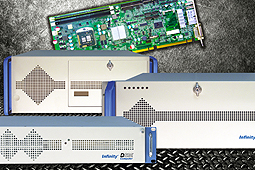 DSM Computer has added three powerful variants to its 19-inch Infinity® computer family, based on DSM's new PICMG 1.3 industry slot CPU 96M4371o. The compact plugin card incorporates an Intel® Core™ processor and the energy-saving Intel® QM57 mobile chipset. The robust 4 U and 2 U industrial PCs are housed in a solid, high-quality rack and lend themselves to being fitted in 19-inch cabinets.
The 4 U 96M1574 and 96M15801 Infinity® systems come with 12 free slots. The 510 mm deep model 96M1574 is designed for eight long and six short plugin cards, the 96M15801 system has a depth of only 455 mm. In total the 19-inch IPCs offer four 5.25-inch drive bays and a 3.5-inch bay. A SATA removable frame, for example for three drives, can be incorporated upon request. The drive cage is vibration protected. The slot CPU incorporates a controller for connecting four SATA II 300 devices with RAID 0, 1, 0+1 and 5 support.
The Infinity® computer 96M1584E has a height of 2 U. Its six free slots are designed for up to three long and two short cards. A 3.5-inch bay is available in addition to a 5.25-inch drive bay.
An internal mini PCI Express™ slot is available for expanding the industrial PCs. In accordance with the PICMG 1.3 standard, a number of PCI Express™ x16, PCI Express™ x1 and PCI-interfaces are available depending on the model in question.
The heart of the modular 19-inch computers is the industrial slot CPU 96M4371o based on the Intel® QM57 mobile chipset. The compact plugin card can for example be fitted with a 2.66 GHz Intel® Core™ i7-620M processor. The processor features two CPU cores and 4 MB cache. The powerful slot CPU offers two DIMM slots for fast DDR 1066/800 memory modules. Both the on-board LAN Controllers Intel® 82577LM and Intel® L82583V support 10/100/1000 Base-T/TX and Intel® AMT 6.0 for remote maintenance.
Upon request, all three Infinity® industrial computers can be delivered with DC power supply unit (12V / 24V / 48V). One or more fans for cooling the IPCs are accommodated behind a replaceable dust filter. Operating costs, especially in 24/7 operation, are optimised thanks to the mobile platforms' low power consumption.
DSM Computer GmbH
www.dsm-computer.com