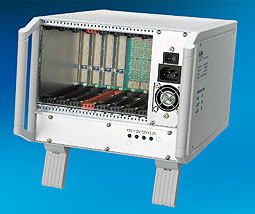 The manufacturer of individual components and system solutions ELMA has now presented a CompactPCI PlusIO test system at PICMG CPCI-2.30 standard. This "little brother" of the two already existing 19-inch versions is equipped with eight slots in total; one system slot for the CPU, four for peripheral cards and the remaining three for CompactPCI legacy cards. For ELMA CEO Paolo Putzolu, this compact tabletop system realizes a long-cherished customer wish: "before a new technology can be used within the server cabinet, it has to be tested thoroughly. There were numerous requests for a smaller system that does not take too much space in the electrical lab. Now we are able to offer this comfort to our customers."
CompactPCI Serial is seen as successor technology to the meanwhile outdated CompactPCI standard. The proven IEEE 1101.1-mechanics of the PICMG 2.0 CompactPCI specification were extended by USB2, USB3, SATA protocols, PCI Express and Ethernet, and with this spectrum, high-speed processes are made possible which under the old PICMG 2.0 CompactPCI specification could have never been reached. Furthermore, CompactPCI Serial uses serial point-to-point connections for data throughput what significantly increases speed of transfer.
And there is another important feature inside. As the old technology standard is not compatible with the new connectors used, a hybrid technology was developed for easier transition. Designation of this new specification: PICMG 2.30 CompactPCI PlusIO. Thanks to this technology, old PICMG 2.0 CompactPCI computers are able to cooperate with the new CompactPCI Serial technology; this replaces the complete change to the new system.
ELMA Electronic
www.elma.com