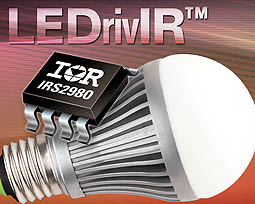 International Rectifier has introduced the IRS2980 high-voltage buck regulator control IC for LED light bulb replacement, LED tube lighting and other non-isolated LED driver applications.
Rated at 600 V, the IRS2980 is the first in a family of high-voltage LEDrivIR™ ICs, and utilizes hysteretic average current mode control for precise current regulation. The LED buck driver features low-side MOSFET drive with high-voltage internal regulator and high-side current sensing. The converter is compatible with electronic PWM dimming allowing for 0%-100% current control.
Available in an SO-8 package, the IRS2980 utilizes IR's advanced high-voltage IC process which incorporates latest-generation high-voltage level-shifting and termination technology to deliver superior electrical over-stress protection and higher field reliability, in addition to other new features and enhancements.
Design Tools
A datasheet and application note are available on the International Rectifier website at www.irf.com. A reference design, the IRPLLED7, featuring the IRS2980DS is also available.
International Rectifier
www.irf.com