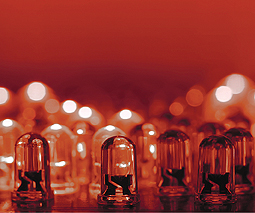 In a presentation on the occasion of the Productronica trade show, SIPLACE technology scout Norbert Heilmann gave insights into current SIPLACE development projects and explained some early details regarding innovative features of upcoming SIPLACE solutions. Over the coming months, SIPLACE will unveil a series of hardware and software tools for the placement of LEDs to allow producers to significantly improve their efficiency in this field, which is currently the fastest growing in the industry. Besides more efficient LED feeding technologies, the SIPLACE placement platform will also feature brightness class management, which automatically assigns the appropriate resistor to each LED (LED pairing). Other SIPLACE development projects mentioned by Heilmann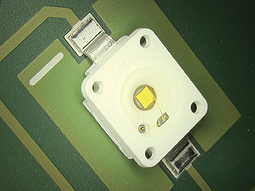 included a special SIPLACE Glue Feeder for the selective application of glue dots to components as well as the SIPLACE Smart Pin Support for the automatic setting of support pins.
In his presentation on the occasion of the 2011 Productronica trade show, Norbert Heilmann focused on innovative SIPLACE engineering de­velopments which will address central electronics manufacturing needs over the coming months. For example, SIPLACE is planning to expand its leading position in the large-volume LED placement field by introducing an automatic brightness class management feature. For technical reasons, LEDs must be paired with different resistors depending on their brightness classes as specified by the manufacturer. The SIPLACE LED Pairing system records this class information in a simple matrix and maps it in the placement program.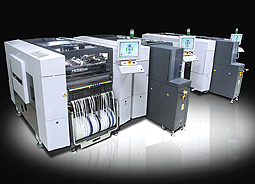 In addition, a special bowl feeder and new special nozzles will further improve the efficiency and quality of the company's LED placement technology.
The SIPLACE Glue Feeder, said Heilmann, will make it possible to attach glue dots selectively to components and only just before they are placed. Electronics manufacturers benefit from this feature because they no longer have to apply adhesives to the PCB and can use the SIPLACE digital vision system for quality control. And last but not least, they can install and maintain this innovative dispenser unit as flexibly as any other feeder.
Since more and more long and large boards must be protected against bending and vibrating by attaching support pins, SIPLACE will automate this process as well. Based on predefined positions in the placement program, a special pin placer on the SIPLACE placement head will place the pins automatically. SIPLACE Smart Pin Support will enable users to eliminate another expensive and error-prone manual procedure.
ASM Assembly Systems
www.siplace.com