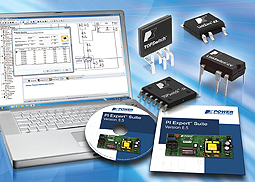 Power Integrations published Version 8.5 of its popular power supply design productivity software, PI Expert Suite. This latest release adds support for the company's new HiperLCS family of high-frequency LLC converter ICs, as well as the recently-introduced TOPSwitch-JX family of integrated offline switcher ICs.
PI Expert Suite significantly shortens and simplifies the design process by generating a complete schematic of the power supply, including an optimized power transformer design and a complete bill of materials. In addition to support for the latest PI product families, the Version 8.5 update includes thermal calculations to optimize heatsink performance and provides PCB layout recommendations for the device and package type chosen. The new version also features an updated component library that includes fuses, fusible resistors, shunt regulators, optocouplers, and heatsinks.
The software is now available in two versions – 32-bit and 64-bit. The 64-bit version takes advantage of larger system memory and faster processor speeds to expedite the design optimization process. PI Expert Suite is available in English, and Russian languages and can be downloaded now at www.powerint.com/pi-expert.
Power Integrations
www.powerint.com