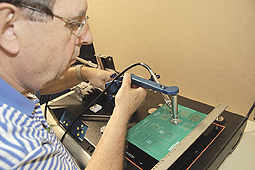 EPTAC Corporation has partnered with equipment supplier MARTIN to utilize an Expert 4.6 Rework Station and Reball Unit in its Manchester, NH training center. The systems will be on hand to educate students about SMT rework and BGA reball and QFN solder bumping. The Expert 4.6 system will demonstrate various types of rework using a large (2000W) IR under heater and top air heating. Students will be able to view soldering, placement, residual solder removal and dispensing on a range of component types.
"We are excited to add this technology to our classroom," stated Leo Lambert, EPTAC's Vice President and Technical Director. "We look forward to having all of our IPC Master Instructors trained and qualified to use this equipment to deliver effective and informative demonstrations to our students."
The stand-alone reball unit can repair a diverse range of BGAs as well as QFNs and CSPs. Using MARTIN's rapid technology, soldering profiles apply settings within the permitted thermal limits, heat at the highest advisable thermal ramp rates and maintain a safe temperature zone.
EPTAC Corporation
www.eptac.com