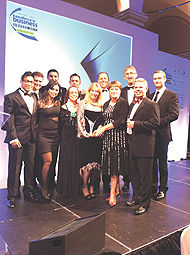 Premier Farnell has scooped the Yorkshire Post Award for best Company with a turnover above £50m at the paper's Excellence in Business Awards.
The awards, which celebrate excellence and high performance within leading businesses in the Yorkshire region, were held on Thursday evening at The Queens Hotel, Leeds.
Judges recognised Premier Farnell for the high levels of enterprise and competitiveness along with management, innovation, performance, customer service and employee motivation within the workplace featuring as key differentiators.
Particularly impressing the judging panel was the robust engagement programme the business has established which has an objective to make Premier Farnell a great place to work. The recent launch of the state-of-the-art gym facility at the Leeds based site, and the sponsorship of David Stone, the double gold medal paralympian who hopes to compete at the 2012 Paralympics, were other areas of success for the business.
"We are absolutely delighted to win this accolade and I would like to thank all our teams for making this happen," said David Gaskin, Finance Director of Farnell Europe, who received the award from UK Deputy Prime Minster Rt Hon Nick Clegg MP. "This is a fabulous recognition for the organisation and its employees."
Farnell
www.farnell.com