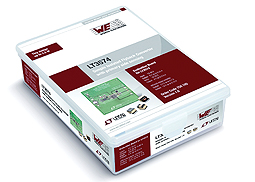 Exclusive agreement with Linear Technology and Wuerth Elektronik adds over 50 new products plus evaluation kits.
Recognising the growing need for innovative, easy and high efficiency power solutions in the latest equipment designs, Farnell has announced the signing of exclusive agreements with industry-leading manufacturers Linear Technology and Wuerth Elektronik to stock new power conversion products and evaluation kits. Farnell will offer Linear Technology's LT3573, 74,75 and LT3748 isolated monolithic flyback switching regulators that significantly simplify the design of a flyback converter as they do not require a third winding or optoisolator and can sense the output voltage directly from the primary side flyback waveform. The regulators are suitable for use in a wide range of applications in the industrial, medical, communications, and lighting markets.
The introduction of more than 50 new, off-the-shelf flyback transformers with several different output voltages from Wuerth Elektronik complements the existing range of over 2400 products that Farnell already offers from the German headquartered manufacturer. The speed and ease with which new designs can be developed using the new Wuerth transformers is aided by the availability of 2.5W, 7W, 10W, 12W an d 30W evaluation kits that Farnell will also stock to support its customers.
Farnell
www.farnell.com