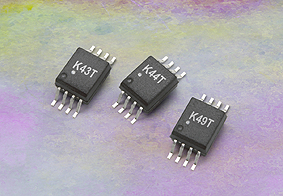 Avago Technologies, a leading supplier of analog interface components for communications, industrial and consumer applications, today announced three new digital optocouplers optimized for use in onboard chargers and other high-voltage systems in hybrid and electric vehicles. The new ACPL-K4xT optocouplers are qualified to AEC-Q100 grade stress test requirements for automotive applications. The devices offer robust working voltage performance up to 1140V, allowing standardization of battery management solutions for mid-voltage car batteries, high-voltage bus and truck batteries, and even future high voltage battery topologies.
The ACPL-K4xT devices are part of the Avago R2Coupler™ family of optocouplers with reinforced insulation for reliable signal isolation, which is critical for onboard chargers for plug-in electric vehicles and other automotive and high-temperature industrial applications. Onboard chargers take in high-voltage, high-current supply to charge quickly, demanding robust isolation of up to 8kV peak transients. The reinforced insulation of the optocouplers meets these stringent requirements, delivering safe electrical signal isolation over a wide operating temperature range from -40 to +125° C. Additionally, the devices' small surface-mount package meets the 8mm creepage and clearance distance required for high-voltage safety regulations.
The low power consumption of the ACPL-K4xT optocouplers helps prevent battery management systems from draining vehicle batteries. The devices feature no quiescent current and thus do not draw power in the "off" state. Also, the current consumption of both their LED and detector IC can be minimized as low as 1.5mA/channel for low-speed switching operation.
The ACPL-K4xT optocouplers are compliant to multiple safety standards, including UL 1577 at 5kVRMS/1 minute, IEC 60747-5-5 with an 8kVpeak transient rating for up to 1140V working voltage, EN/DIN EN60747-5-2 and CSA. The single-channel ACPL-K43T device and dual-channelACPL-K44T device each operate at 1 MBd, while the single-channel ACPL-K49T device operates at 20 kBd.
Additional ACPL-K4xT Product Features
• 30 kV/µs (typical) common mode rejection (CMR) at VCM = 1500V
• Stretched 8-lead small outline (SO-8) package compatible with standard surface mount processes
• Lead(Pb)-free and RoHS 6 fully-compliant
• LED current input scalable to variety of logic voltage levels
• Large supply voltage range up to 20V
• Zero Off state current
Avago Technologies
www.avagotech.com