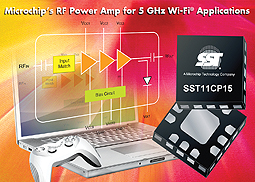 Microchip announces the new SST11CP15 RF power amplifier for 5GHz IEE 802.11a/n WLAN embedded applications. The device operates on the 4.9 to 5.9GHz band and offers a wide operating voltage range of 3.3V to 5V. The SST11CP15 features a high linear output power of 18dBm at 2.5 percent EVM, using 802.11a OFDM 54Mbps at 3.3V, and 20dBm at 5.0V; and offers an output power of 23dBm at mask compliance of 6Mbps, at 3.3V. The compact, 2 mm × 2 mm × .55 mm, 12-pin QFN package makes the SST11CP15 suitable for 5 GHz WLAN applications where small size and high-efficiency operation are required.
The SST11CP15 enables designers to reduce DC current consumption in applications such as wireless multimedia and MIMO for broadband gateway and consumer-electronics equipment. With its high
power-added efficiency, the SST11CP15 reduces battery current drain and therefore extends battery life, whilst its 4.9 to 5.9GHz linear operation enables 802.11a/n operation and increases data rates.
Microchip Technology
www.microchip.com/get/02DL