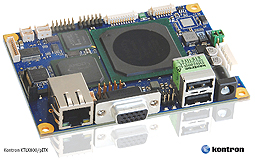 Kontron recently introduced a new Single Board Computer in the Pico-ITX form factor featuring AMD's Geode™ LX800 processor. The first Geode™ processors were launched as early as 1999 and the AMD Geode™ LX800 processor made its entry in 2005. And now, after the processor has already been available in the market for six years, leading embedded manufacturers are currently working on new designs – which just goes to show how attractive this 500 MHz processor and AMD's long-term availability support actually are.

Five plus two years is the rule-of-thumb for a processor's availability in ×86 technology. After this period, the technology loses its momentum as far as new designs are concerned and last-time orders and last-time delivery management are the name of the game. At this point in time, sales figures have fallen significantly and all that remains is just the "long tail" demand, which can remain stable for a long period but more often than not only hovers around a one figured percentage of the original demand. Maintaining the required resources for production and support often just no longer pay off.
Uniqueness
The AMD Geode™ LX processor family breaks free from this reference pattern. Today a stable demand still exists – especially for the Geode™ LX800 processor – and due to the order volumes it is still yielding a profit. What's the reason behind this? The answer is simple. The most unique thing about this processor is the fact that there are no other comparable solutions left in the market. At this time there had been no other single ×86 processor which is equipped with a graphics processing unit and which has an average power consumption of under 1.8 watt. And still today it is a hard task to find a comparable solution. So for customers who need a very slimline ×86 solution the processor is an attractive choice if the 500 MHz watt clocking suffices.
How come this particular chip has survived?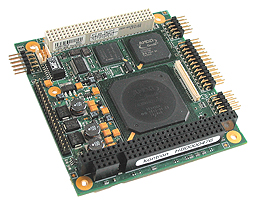 Slim GUI applications
In terms of operating system support, right from the start the AMD Geode™ LX family provided a broad base for 32 bit operating systems with full Windows and Linux support. In addition it supports Flash, features full browser support and AC sound, so that it perfectly fits the bill for GUIs and thin clients and for slim visualization tasks. And precisely in this application environment, there always was a broad market. And this is the reason why the Geode™ LX800 variant was launched in 2006. At that time high performance processors were already available. But with features like MMX and 3DNow! the AMD Geode™ LX 800@0.9W processor achieved the highest performance per watt in comparison to all the other 32 bit processors with ×86 architecture that were available at the time – and at the same time offered higher memory bandwidth via a DDR interface and an improved I/O throughput with USB 2.0. So right from the word go, the LX 800 was geared to accommodating long-term applications when it succeeded the Geode™ GX. And even today's applications require the type of performance the LX family is offering. More than anything it is remarkable how low the power consumption actually is and on top of this, thanks to its high level of integration, how ideal it is for fanless SFF designs, as the processor integrates a graphics processor, a display controller and a video processor plus a security block with AES besides the CPU and memory controller. Combined with the corresponding AMD Geode™ CS5536 chipset it offers a complete 2-chip solution with full ×86 functionality. A further advantage particular to the Geode™ LX800 processor lies in its high temperature area which ranges from -40°C up to +85°C, making it an ideal solution for applications which have to run smoothly even in critical environmental conditions. This also simplifies the design of fanless systems, as they usually require a maximum processor case temperature that should be at least 15°C higher than the environmental temperature of the
system.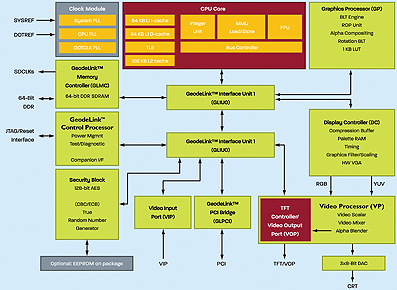 High market penetration
Due to these characteristics the processor was used in embedded applications such as Point-of-Sales terminals, information appliances and kiosks and voting machines, which were in especially high demand at the time of its launch. But the processor was even found in applications such as industrial control computers, panel PCs and thin clients. And the fact that it supports legacy interfaces such as COM or VGA, makes it even interesting for many applications which already exist in the market, i. e. car park ticketing machines.
What justifies a redesign?
What explains the logic behind the fact that embedded manufacturers such as Kontron not only are still selling the existing designs with this processor but even drafting new designs? The answer is: a number of good reasons. On the one hand, the existing designs reflect the status of the technology and the availability promises of the year in which they were launched. So previous designs did not provide today's important interfaces like SATA or a MicroSD slot, since they were not available.
This also applies to the operating system support. Not every component has the latest OS support like Windows Embedded Standard 7. During its running time, only the operating systems are supported which were available at the time of launch, or which were already announced.
This is only logical, as why should operating systems support be extended. It only usually makes sense for new designs. During its lifetime, an up and running OEM application will hardly ever change its OS. That would prove too costly and would therefore only be justifiable for a new product launch.
New board level products, however, tackle the absence of this.
New 2.5 inch form factor Pico-ITX
At the end of the day though, the 2.5 inch form factor Pico-ITX exactly fits the bill which the trend towards Small Form Factor designs sets out: more and more developers of Small Form Factor devices are looking for cost-efficient Off-the-Shelf solutions, which minimize development effort and guarantee fast time-to-market. Individual development tasks on such a small form factor (10 × 7.2 cm respectively 72 cm²) are no longer compulsory.
And as for many applications, there is no longer a need for a large range of extension options, a single board design suffices which accommodates all the interfaces in such a way that standard cables for USB, COM, VGA, Ethernet & Co. can be connected without further ado. No embedded connectors are needed to connect these interfaces to the housing. These are the reasons which have led Kontron to further extend its existing portfolio of Geode LX designs in this segment.
Around 6 to 7 watt consumption
The new 2.5″ Pico-ITX™ SBC Kontron KTLX800/pITX with AMD Geode™ LX800 processor combines highest cost- and energy-efficiency with an industrial interface offering for the automation and measuring and testing engineering. With several years of long-term availability and an average of only 5 to 7 watt power consumption the Kontron KTLX800/pITX is the ideal basis for a large range of extremely compactly designed and cost-sensitive industrial applications.
Interfaces galore
To meet these needs the 2.5″ Pico-ITX™ SBC Kontron pITX-SP has an extensive range of interfaces which – apart from VGA and LVDS with Jili30 – include two serial interfaces, Fast Ethernet, SATA, 4× USB 2.0 and 16 GPIO. The extremely compact SBC (100 mm × 72 mm) enables the fast and simple development of cost-optimized and extremely small SFF embedded designs and ultra-mobile devices in the industrial automation and for measurement and testing engineering. Thanks to its price-optimized performance and the compact footprint the Kontron KTLX800/pITX also presents an ideal alternative to the RISC-based solutions. This provides advantages due to the extensive software base of the ×86 ecosystem and the simplified application development which results from it, which means faster time-to-market and lower operational costs (TCO). Development is also simplified by Kontron's large range of software with various Board Support Packages and the Cross Platform Middleware Kontron Embedded Application Programming Interface (KEAPI). Kontron EAPI standardizes the hardware access and reduces the required development effort additionally achieving a much faster time-to-market.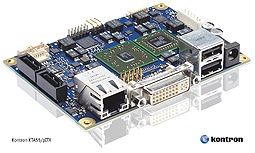 The feature set in detail
The long-term available 2.5″ Pico-ITX™ Single Board Computer Kontron KTLX800 /pITX with up to 1 GB DDR RAM based on the AMD Geode™ LX 800 processor with 500MHz at only 0.9 watt on average.
In addition to the 1× 10/100 Mbit Ethernet and 4× USB 2.0 (2× USB via pin header), the interface range also includes two serial interfaces (RS232) which are still in demand for industrial applications. In order to realize the application-specific I/Os, the Single Board Computer additionally provides 16 configurable GPIOs. To connect any type of display or panel there are 1× VGA (DSUB-15, up to 1600 ×1200 UXGA) and 1× Jili30 (LVDS Single Channel, up to 1280 ×1024 @ 85Hz) with backlight support. Data media can be connected via either 1× SATA II or in an extremely space-saving way via the socket for MicroSD cards. The 2.5″ Pico-ITX™ SBC Kontron KTLX800/pITX supports Windows XP, Windows XP Embedded, Windows Embedded Standard 7 and Linux and has now become available.
Also available for the PC/104
Since as far back as 2006 the AMD LX800 processor has been available at Kontron even for the PC/104. PC/104 is now experiencing increased demand. This is a result of – as well as Pico-ITX –the trend towards SFF designs. PC/104 excels for a reason which Pico-ITX currently cannot fulfill to the same extent – its immense range of I/O components. On the other hand Pico-ITX is convincing due to its extensive range of external interfaces which are directly on board. Two form factors which are complementary to one another. The disadvantage of the sandwich design which over the past few years has hindered the growth of PC/104 is becoming more and more insignificant: Both the production size of the chips and the TDP of SFF designs are constantly being lowered. This does away with design-in problems.
A new launch is available for PC/104 i. e. with AMD Embedded G-Series processors which with its new APU delivers convincing results.
Author:
Daniel Piper,
Senior Marketing Manager at Kontron
www.kontron.com