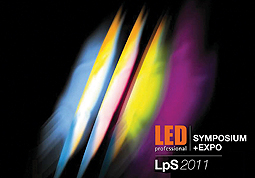 The technology of Light Emitting Diodes (LED) is not new, but its application in lighting technologies is. With the development of high-efficiency and high-performance LEDs it has become possible to use LEDs in lighting and illumination. This kind of lighting technology has shown a very fast and interesting development. It is very flexible and consumes much less energy than conventional lighting systems do. A building's carbon footprint from lighting can be reduced by 85 percent by exchanging all incandescent bulbs with new LED lighting.
The LED professional Symposium and Exhibition (abbreviated: LpS 2011) takes place from the 27th to the 29th of September, 2011 in western Austria. It is being organized by LUGER RESEARCH, and the venue is the "Festspielhaus" (Festival House) in Bregenz:
Festspielhaus
Platz der Wiener Symphoniker 1
6900 Bregenz, Austria
This meeting of experts from all over the world is planned to become an annual event because LED lighting technology has a big influence on the development of new lighting solutions and is applied in all areas of lighting. It aims to be Europe's foremost LED lighting technology meeting point for lighting experts operating in industry and research.
At the LED professional Symposium and Exhibition 2011, up to date information about the newest technologies and developments will be presented. Visitors will see the latest, as yet, unpublished technology presentations on the subject of LED-technologies and their applications put forward by experts from all over the world.
Topics covered at the LpS 2011:
• Evolution of LED lighting systems
• Technologies for increased efficiencies of white light LED systems
• Technologies for mixing LED light
• Reliability of LED lighting systems
• Standardization & measurement of LED lighting systems
• Design approaches & tools of LED lighting systems
• Cost & production process improvements for LED lighting systems
System areas covered at LpS 2011:
• Light generation
• Primary & secondary optics
• Driver ICs
• Lighting driver modules
• Cooling devices
• Substrate, packaging & connection devices & materials
• Lighting control modules
• Lighting design tools & configurators covering optics, electronics & thermal components
• Measurement & calibration equipment
• Production methodologies & manufacturing tools
Luger Research
www.lugerresearch.com