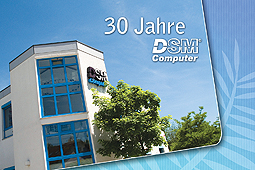 "Continuity and stability in a dynamic market environment", that is the recipe for the success of DSM Computer GmbH, which has been developing and manufacturing industrial computers and now also high quality display systems for 30 years.
The focus of DSM's company strategy is on constantly adapting to the needs of customers from different markets. That is why the entire process chain is constantly being re-evaluated and optimised from enquiry to product delivery. Today, with autonomous production islands, DSM is able to respond very flexibly to different batch sizes.
DSM also develops new industrial products in close cooperation with its customers. Solutions optimised to the specific application are offered alongside efficient standard products that can be delivered quickly. That means that application-specific (modified) versions involving little effort and expense are possible as are individual (customized) systems, precisely tailored to customer requirements. Nowadays, DSM offers not just a wide range of powerful industrial computers and compact embedded systems but, as an option, large industrial displays as well, thanks to the merger with ABLE Design GmbH. All innovative products conform to the highest quality standards and are available over a protracted period.
When it comes to expansion, DSM Computer GmbH is sticking with Germany as its home location. All functions, from development and manufacturing to sales, marketing and administration are concentrated on the DSM campus in the west of Munich. That means that customers can count on short communication channels and prompt support.
DSM Computer GmbH
www.dsm-computer.com