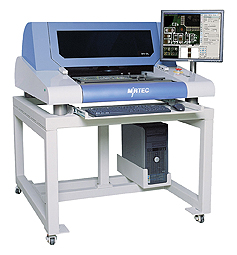 MIRTEC, "The Global Leader in Inspection Technology," will feature its award-winning MV-3L Desktop AOI Machine at the upcoming SMTA Huntsville Expo & Tech Forum, scheduled to take place Wednesday, June 22, 2011 at the Von Braun Center in Huntsville, AL.
The MIRTEC MV-3L is the industry's most widely accepted Five Camera Desktop AOI system. The system is configured with a Top-Down View Five Mega Pixel camera, with a Precision 13.4 Micron Telecentric Compound Lens and four Five Mega Pixel Side-View Cameras. This advanced technology provides: four-point height measurement capability for co-planarity testing of BGA and CSP devices as well as enhanced solder paste measurement capability. The MV-3L software is powerful yet simple to use. A comprehensive Package Type Library provides simple "Drag and Drop" component programming. The Automatic Teaching Tool (ATT) software provides automatic teaching of component locations using CAD centroid data.
"MIRTEC has earned a solid reputation in the industry by providing unprecedented performance, quality and cost-effectiveness to the inspection environment," stated Brian D'Amico, president of MIRTEC's North American Sales and Service Division.
MIRTEC Corp.
www.mirtecusa.com