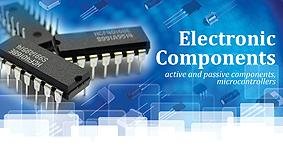 BKD Electronic
offers design and manufacturing services, with the following reference activities:
PCB Design, software application design for microcontrollers, Hardware and Software systems design for industrial processes automation, top and bottom PCB assembly with SMT and THT technologies, Optical and functional testing, electromagnetic compatibility tests, equipments for industrial and residential environments, prototype manufacturing and testing.
We have undergoing contracts with the most important electronic components manufacturers, such as: Vishay, Samsung, Royal OHM, Taiwan Semiconductor, NXP, ON Semiconductor, NEC, Sanyio, Osram, Microchip, Toshiba, Atmel, Ninigi, Tyco, Molex, AVX, Yageo, Bourns, Talema, TDK, Epcos, Toko, Fujitsu, Keystone, Kemet, ECE, Schurter, C&K, Hartu, Degson, Everlight, Texas Instruments, National Semiconductor, Omron and we develop strong relationships with collaborators that supply packing units, therefore we own an impressive stock of electronic components.
Through our subcontracting activity, BKD Electronic constitutes as important part of the economic infrastructure, our customers being able to benefit of our services with full confidence, as we can provide: SMT technological operations, THT components assembly, manufacturing coiled electrical wirings, toroidal cores, mechanical assembly, final product testing with testing stand, electromagnetic compatibility testing, with our own laboratory, supplying with SMD and THT components, cables for insulated wirings, PCBs, electro-mechanical components.
We benefit of a stock of electronic components – active and passive components, microcontrollers, that are found in our storage facilities, as excess. For this reason, our company makes available for sale the components, with immediate dispatch, process accompanied by various advantages: we sell our excess stock without trade markup and each component is accompanied by the supplier's conformity declaration. We guarantee de quality and conformity of products with the European Union's directives and regulations.
We can therefore become your main components supplier for various electronic applications used in various industrial domains: telecommunications, safety and surveillance systems, household applications and other industrial domains.
For a complete list with our excess components stock, you can visit the webpage:
http://www.bkdelectronic.ro/excesscomponents.php

technology in motion
332005 Anghel Saligny Nr. 3, Petroşani, România
Tel.: +40 254 542 964 | Fax: +40 254 548 964
www.elpm.ro | www.bkdelectronic.ro