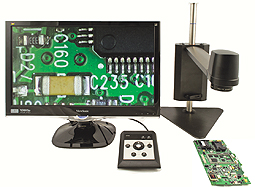 Christopher Associates Inc. announces that it will exhibit at the upcoming Ohio Valley Expo & Tech Forum, scheduled to take place July 14, 2011 at the Doubletree Hotel in Cleveland, OH.
Christopher Associates will exhibit equipment and materials from its world-class suppliers, including:
Tagarno – Christopher will showcase the new Tagarno MAGNUS HD High-Definition Benchtop Inspection System. The MAGNUS HD is a manual inspection system developed for very high-resolution, large field inspection of bare PCBs, printed circuit assemblies, medical devices and other applications where accuracy and ultra-clear image reproduction is critical.
Christopher Associates also will have information available for the following suppliers:
Akila – The new line of X-ray inspection systems from Akila breaks new ground in cost of ownership. The line is designed for advanced applications and production with minimal maintenance and operating costs.
Intek Plus – The SPI Series solder paste inspection systems apply 3-D Moiré technology combined with 2-D area inspection to provide unparalleled speed and accuracy.
Koki Company, LTD. – The SO1X7C48 is a high-reliability, low-silver lead-free solder paste.
Marantz Business Electronics – This year, Marantz introduced the iSpector U22XHMA Multi Camera AOI System.
Christopher Associates
www.christopherweb.com