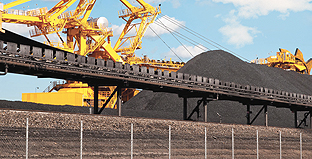 If you wish to improve the performances, by reducing the unsatisfactorily operation of certain production and sorting systems, we invite you to discover one of the devices that bring added safety to your productivity.
– The side drift belt device type DDLB-02US is designed for sensing the rubber mat's side drift, opposed to the normal alignment axis, in heavy duty conveyors.
– The DDLB-02US is comprised of the electronic
circuit board, the sensor for emitting the ultrasounds beam, the cone for guiding the beam, the pulses being generated and received by a microcontroller.
– The operating principle is a relatively simple one: for the rubber mat's side drift opposed to the normal alignment axis, the mat reflects the ultrasounds beam emitted by the DDLB-02US device's sensor.
– At the reception time by the sensor, the DDLB-02US device receives the ultrasounds reflected by the rubber mat and the device's control relay changes its switch contacts state. To avoid stopping the conveyor for side drifts of the rubber mat, for short periods, the relay's switch changes its state with a time delay of 3 seconds.
– Available in a polyamide case, the DDLB-02US is designed, manufactured and verified within our company.
– BKD Electronic guarantees proper operation of the side drift belt device type DDLB-02US, which will sense the belt's drift, without this sustaining any damages, therefore your process will not be affected.
For offers and additional information, you can contact us at the e-mail address: office@bkdelectronic.ro.
The climatic and environmental conditions that ensure a proper operation of the side drift belt device are:
• Operating temperature: -20°C up to +45°C
• Storage temperature: -25°C up to +55°C
• Average relative humidity: 90% up to 20°C
• Pollution degree 4, according to CEI 947/1-92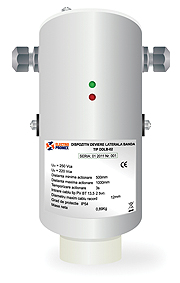 Technical characteristics
• Nominal insulation voltage: Uiz 250Vca
• Nominal supply voltage: Un 220Vca
• Supply voltage fluctuation: 0,85 ÷ 1,1 (Un)
• Minimum driving distance: 200mm
• Maximum driving distance: 500mm
• Drive timing: 3s
• Cable input type PV BT -13,5: 2 buc.
• Maximum diameter of connecting cable: 12mm
• Normal protection degree: IP54
• Overall dimensions: 200 × 150 × 115
• Net weight: 0,890kg

technology in motion
332005 Anghel Saligny Nr. 3, Petroşani, România
Tel.: +40 254 542 964 | Fax: +40 254 548 964
www.elpm.ro | www.bkdelectronic.ro