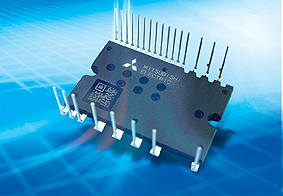 Ratingen, 17th of May 2011
Mitsubishi Electric is introducing the 5th generation of Super Mini-DIPIPM (Dual Inline Package Intelligent Power Module) family for 3-phase DC/AC conversion targeting low power applications like white goods and small power drives.
The 5th generation Super Mini-DIPIPM with ratings from 5A to 15A/600V is using the new 6th generation Full Gate CSTBTTM (Carrier Stored Trench Gate Bipolar Transistor) technology resulting in low power loss. The new family can easily replace the previous 4th generation Super Mini-DIPIPM family due to pin compatibility with an outline of 38mm by 24mm.
The new Super Mini-DIPIPM modules feature implemented bootstrap diodes as well as N-side open Emitter. Furthermore, protection functions against short circuit (SC), under voltage (UV) and over temperature (OT) with fault signal output in case of a failure are integrated into the device.
The 5th generation Super Mini-DIPIPM family is either available with built-in over temperature protection or with built-in analog output of LVIC temperature in order to simplify designing the upper limit of the operation temperature.
Mitsubishi Electric
http://global.mitsubishielectric.com
http://www.MitsubishiElectric.de