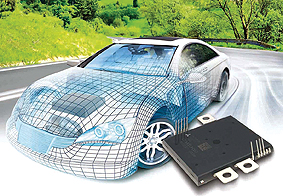 Ratingen, 17th of May 2011
Mitsubishi Electric is introducing a new transfer molded power module (T-PM) mainly designed for electric vehicle applications. The company's J-Series
T-PM provides enhan­ced reliability by incorporating Mitsubishi Electric's proprietary
technology that ensures power loss reduction. Its lifespan is 30 times longer compared to those of industrial power modules and is completely lead-free.
Mitsubishi Electric's J-Series T-PM offers enhanced reliability by incorporating the company's original inner connection technology called direct lead bonding (DLB). DLB reduces power loss through decreasing wiring resistance and inductance in modules by way of an extended main terminal that is sufficiently long to be bonded directly to the power chip.
The power module's power cycle lifespan and the temperature cycle lifespan is 30 times longer compared to those of typical industrial power modules. Power cycle lifespan is based on repetitive operation tests with the chip energized, rapidly changing the temperature within a range of between 50 and 100 degrees Celsius. Temperature cycle lifespan is based on repetitive operation tests, modulating the temperature between -40 degrees Celsius and 125 degrees Celsius without the chip energized.
Two carrier-stored trench gate bipolar transistor (CSTBT) IGBT chips are incorporated in a 600V/300A power module which achieves automotive-grade quality and lifespan.
In line with growing awareness for the environment, the market volume of electric vehicles is expanding. Automotive components have to compile with high safety standards. Therefore, these power modules have to provide higher reliability compared to industrial power modules. In 2004 Mitsubishi Electric was the first company to launch a highly reliable, lead (Pb)-free power module for automotive applications by using transfer molding technology. Transfer molding is a pressure molding method by which heated and pressurized resin is poured into a metal mold and enclosed. This method enables manufacturers to make multiple molds simultaneously and render power modules highly reliable.
Mitsubishi Electric
http://global.mitsubishielectric.com
http://www.MitsubishiElectric.de