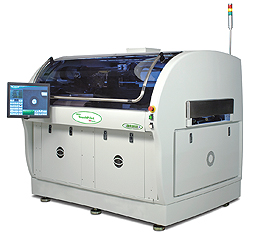 Milara Incorporated, a leader in stencil printing technological innovation, announces that it has been awarded the coveted 2011 NPI Award in the category of Screen/Stencil Printing for its TD2929-3D with CyberOptics' 3-D High Speed Post-Print Inspection Head. The award was presented to the company during a Tuesday, April 12, 2011 ceremony that took place at the Mandalay Bay Resort & Convention Center in Las Vegas during IPC APEX 2011.
Milara and CyberOptics have teamed to provide the first integrated 3D 100 percent solder paste post-print inspection as an option on the new TD2929-3D, which also incorporates the world's first industrial vibrating squeegee technology. The TD2929-3Dnow can provide 3-D high-speed post-print paste inspection at full line speed using CyberOptics' industry-leading SE500™ technology. Prospective clients will be able to utilize the full technological advantages of CyberOptics under a single hood.
The TD2929-3D system is optioned for either 2-D (standard) or 3-D post-print inspection. The TD2929 product line is equipped with twin gantries and dual processing conveyors termed SimuTechTM Technology.
Milara Inc.
www.milarasmt.com