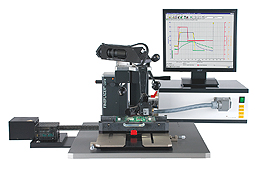 Finetech, a world leading equipment manufacturer of advanced rework solutions, will present two rework systems for professional rework applications in booth 2D10-A at NEPCON China 2011.
The FINEPLACER® core plus is a compact yet versatile rework system that offers a level of professionalism that exceeds its attractive price. The system offers proven rework technology for a wide spectrum of SMD components, ranging in size from 0201 to 70 x 70 mm. This compact rework station is based on Finetech's proven technology integrating the complete rework cycle into an efficient design, without diminishing functionality. The system is at home in production environments where process reproducibility is crucial. The large area under-board heater for PCBs supports board sizes of up to 400 x 310 mm.
FINEPLACER® pico rs is an enhanced hot air rework station for assembly and rework of all types of SMD components. The system is a best seller for professional mobile device rework in challenging high-density environments. The system provides industry-leading Integrated Process Management (IPM) with synchronized control of all process modules and their related parameters: top and bottom (pre-)heating and cooling, temperature, time, power, flow, light and vacuum.
Finetech
www.finetech.de