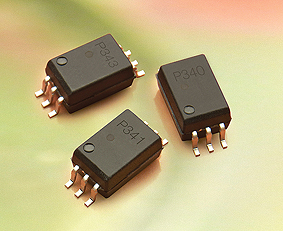 Böblingen, Germany, 23.05.2011
Avago Technologies, a leading supplier of analog interface components for communications, industrial and consumer applications, today announced a new generation of gate drive optocouplers that deliver industry-leading performance from a small-footprint package. The new ACPL-P34x and ACPL-W34x optocoupler family is based on process technology that enables higher output current drive with rail-to-rail capability, providing high-voltage insulation and robust protection for industrial drive, inverter and power supply applications. The optocouplers are available in a stretched SO6 package that is 40 to 50 percent smaller than industry-standard Dual-inline (DIP) package. With output current up to 4A – the market's highest in this package – the family provides reliable, fast and efficient system performance.
Traditionally, Avago gate drive optocouplers have used bipolar transistors for the output stage to deliver high output current. With process technology improvements, the output stage can now be replaced with bipolar CMOS/DMOS technology, which combines the high component density and low power consumption of CMOS with the high current drive and speed of bipolar process. The switching speed is also now twice as fast as the previous generation, reducing the dead time when both the high-side and low-side transistors are off from 700 ns to 200 ns for improved system efficiency.
"Avago continues to bring value to customers by setting new standards for optocoupler performance, as exemplified by our new gate drive family," said Kheng-Jam Lee, marketing director for optocoupler products at Avago. "This innovative family expands our optocoupler portfolio, which is already the industry's broadest, to better address a wider range of applications. This is especially important for motor drive and emerging renewable energy inverter applications, which are seeing tremendous growth in the use of IGBT."
The ACPL-P343/W343, ACPL-P341/W341 and ACPL-P340/W340 optocouplers come in 4A, 3A and 1A maximum peak output current, respectively. The wide range of output current allows the family to address systems with different power ratings, including Insulated Gate Bipolar Transistor (IGBT) and MOSFET gate drive, industrial inverters, renewable energy inverters, AC and brushless DC motor drives, switching power supplies, induction cookers and inverters for home appliances. The high common mode rejection (CMR) of the optocouplers, at 35 kV/µs prevents erroneous driving of an IGBT and ensures reliable operation in noisy environments. The family's stretched SO6 packages are compliant to many industrial safety standards, including IEC/EN/DIN EN 60747-5-2, UL 1577 and CSA.
Additional ACPL-P34x and ACPL-W34x Product Features
• Industrial temperature range: -40° C to 105° C
• Low ICC supply current for bootstrap operation and low power consumption
• Under Voltage Lock-Out (UVLO) with hysteresis for IGBT protection
• Compliant to UL 1577 5000 VRMS/1 minute rating
• 8-mm creepage and clearance
Availability
Samples and production quantities are available now through Avago's direct sales channel and worldwide distribution partners. More information about Avago´s products can be found at: http://www.avagotech.com/pages/en/optocouplers_plastic/
Avago Technologies
www.avagotech.com