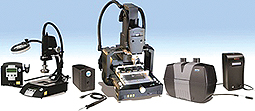 OK International will be showcasing a wide range of advanced technologies for production assembly at this year's SMT Germany exhibition, being held from May 3rd – 5th in Nuremberg, Germany. Represented on Weidinger stand 101 in Hall 6, OK International products on show will include advanced soldering, desoldering and rework systems – to name a few!
Taking centre stage on the Weidinger stand, OK International's APR-5000-DZ Array Package Rework System will show operators how they can increase productivity by reducing rework cycle time. Incorporating rapid response convective top reflow heater and bottom dual zone preheaters for fast ramp and tight delta temperature control, the APR-5000-DZ is an ideal choice for a wide range of manufacturing environments. Also featuring a lowered nozzle temperature, the system provides complete protection for all components under rework.
Also on show on stand 101, the MRS-1000 Modular Rework System is a powerful, high accuracy benchtop solution ideal for processes requiring precision control such as the removal of delicate miniature SMT components, for example. The MRS-1000 will appear alongside OK International's PS-900 Soldering System, powered by the company's patented SmartHeat®-Technology.
OK International
www.okinternational.com