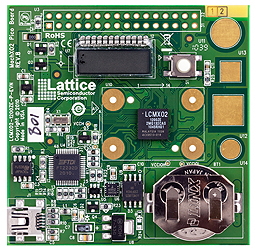 MSC together with Lattice is running two development kit price promotions until July 29, 2011 or while promotional quantities last. This offer should encourage customers to evaluate the MachXO2 and/or LatticeECP3 devices, and experience the user-friendly Diamond 1.2 design software at low cost.
LatticeECP3 Versa Development Kit
The all-inclusive Versa kit includes the LatticeECP3 Versa Evaluation Board, seven demonstration systems, 16 free reference designs and a free evaluation license for Lattice Diamond™ Design Software for use with the Versa Kit only. The demonstration systems, reference designs, and Diamond Software can be downloaded from the Lattice web-site ( www.latticesemi.com/ecp3versa). The feature rich LatticeECP3 Versa Evaluation Board has both PCI Express 1.1 x1 and dual Gigabit Ethernet interfaces. The onboard SMA connectors can be used to showcase the electrical quality of the low-jitter LatticeECP3 SERDES and provide an expansion port for external modules such as SFP transceivers.
MachXO2 Pico Development Kit
The MachXO2 Pico Development Kit is a battery-powered, low-cost evaluation platform to accelerate the evaluation of MachXO2 PLDs. Using the preloaded Environment Scanning system-on-chip (SoC) design provided with the development kit, customers can now test within minutes, popular interfaces such as UART, SPI and I2C using the integrated 8-bit LatticeMico8™ microcontroller in conjunction with the MachXO2 Embedded Function Bock (EFB). After the initial evaluation, customers can then build their own designs using the free downloadable Lattice Diamond Design software and reference design source code, implementing these features in less than an hour.
MSC Vertriebs GmbH
www.msc-ge.com