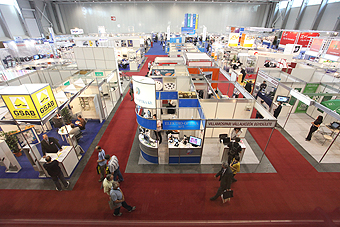 MACH-TECH International Trade Exhibition of Machine Manufacturing and Welding Technology celebrating its 10th anniversary and its accompanying event, the renewed ELECTROcom International Trade Fair for Electronics, Communication and Electrical Technology, will be awaiting the interested professionals at HUNGEXPO Budapest Fair Centre with a wide array of innovations between 17 and 20 May 2011.
All representatives, from the smallest to the greatest, will be present at the trade show, presenting a full view to professionals of the current state of the segment. Thanks to positive changes in the market those who declined to participate in 2009 will return this year to join those who participated in the pervious show as well. In this way a total of 311 exhibitors from 9 countries will exhibit their latest designs on a total area of more than 10,000 m2.
Both events will be accompanied by rich professional programmes where in addition to novelties the visitors will acquire useful information on the future of the industrial branches, on the possible ways out of the crisis, on innovative solutions, application schemes and vocational training.
THE EXHIBITION OF THE FUTURE – INDUSTRIAUTOMATION!
The market structure is continually transforming in a technical aspect as well and the active participants of competition in the market, manufacturers and distributors alike, keep updating their strategies to adapt them to the latest trends in demand. Of course these trends have a major impact on the industrial technology trade shows to be organised in the future in the framework of the Industry Days as well.
The first full INDUSTRIAUTOMATION International industry and automation trade exhibition will take place between 15-18 May 2012 which will be a venue for the industrial branches that are closely linked to one another, along with electronics, electro-technology and communication technology fields that are the key technologies in all industrial automation areas, in their complex relationships and in their full extent.
The structure of the new INDUSTRIAUTOMATION trade show will be based on three pillars: one being the INDUSTRIAL FACTORY that is the manufacture automation exhibition segment, the second is INDUSTRIAL PROCESS that is the process automation segment, whole the third one is the ELECTROcom trade show which is a focal element of the INDUSTRIAUTOMATION structure. This is a central link connecting the various automation segments.
Online registration for free entrance
More information:
http://www.electrosalon.hu/&_nyelv_=en