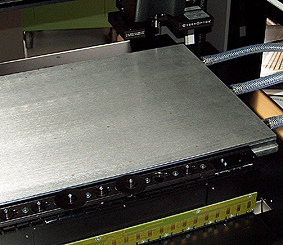 Essemtec, the Swiss manufacturer of production systems for electronics, will debut a new type of exchangeable vacuum table at the upcoming SMT Nuremberg exhibition. It allows foils and double-sided PCBs to be processed on the same machine, and installation is simple with only a few steps. Essemtec also will present a new inline system during the exhibition.
Essemtec's new vacuum table is equipped with magnetic feet and fits exactly into the standard holder for single- and double-sided PCBs. It takes only a few simple steps to install it and to prepare the machine for both thin PCB and foil processing.
The vacuum table features a high-quality, polished and powder-coated surface. The flatness is specified at 1/100 mm. The vacuum drills are arranged in a 10 mm grid and are divided into three areas that can be switched on and off individually.
The standard vacuum table offers a surface of 520 x 320mm (20.47 x 12.59″) and is ideal of Essemtec's Pantera-X SMD pick-and-place as well as its CDS dispensing system. Custom sizes also are available and it is possible to retrofit existing machines.
Additionally, Essemtec will introduce a new inline transport for Pantera-X pick-and-place machines at the upcoming SMT Nuremberg exhibition. Until recently, these machines were available only as standalone model. Today, customers can chose their inline configuration from single, dual or three stage conveyor systems with SMEMA interface.
These new options increase the possibilities and capabilities of SMT production. Pantera-XV pick-and-place systems are becoming more flexible, offering the possibilities of large as well as small production runs.
Essemtec
www.essemtec.com