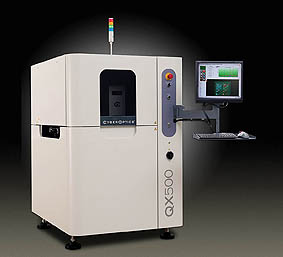 CyberOptics Corporation, a leading SMT inspection solutions provider announces that it will introduce SE500-D(TM) Dual Lane SPI system with largest board handling capability and also exhibit its award-winning QX500(TM) AOI system at NEPCON China 2011. CyberOptics invites all visitors to visit Booth 4E25 to catch a first glimpse of the SE500-D(TM) dual lane SPI system as it makes its debut at NEPCON China, May 11 – 13, 2011 in Shanghai, China.
CyberOptics' SE500-D(TM) Dual Lane SPI system is designed with largest board handling capability comparable with major SMT suppliers. With its flexible conveyor configuration, SE500-D(TM) maximizes production utilization by allowing different products with varying board widths to be run on the same production line. In addition, SE500-D(TM) also supports asynchronous inspection on separate lanes. CyberOptics' calibration-free sensing technology is at the heart of SE500-D(TM) delivering a flexible inspection solution that can inspect even the most demanding assemblies at 80 cm2/second inspection speeds or greater, without compromising on measurement accuracy and repeatability.
CyberOptics' innovative QX500(TM) AOI system is designed with a unique image acquisition solution – Strobed Inspection Module (SIM), bringing forth yet another industry-leading, high-speed inspection solution matched with exceptional defect coverage and extremely low false failure rates. The introduction of strobed white lighting in the QX500(TM) makes it the only AOI system that provides "on-the-fly" area-scanning inspection at an incredible 200 cm2/sec, setting it apart from conventional AOI systems. The QX500(TM) dual fixed angle lighting provides superb image quality for advanced automated inspection of solder and lead defects, presence and position, correct part and polarity, and polarity for inspection down to 01005 components.
CyberOptics Corporation
www.cyberoptics.com