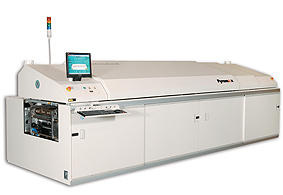 BTU International, a leading supplier of advanced thermal processing equipment for the alternative energy and electronics manufacturing markets, will highlight its new dual-lane, dual-speed capabilities of the PYRAMAX(TM) solder reflow system, as well as next generation high efficiency flux management, in Booth #1B08 at the upcoming NEPCON China 2011, scheduled to take place May 11-13, 2011 in Shanghai, China.
Dual-lane reflow ovens have been used for years to increase production in a single reflow oven by allowing two boards to be run at the same time in parallel. Until recently dual-lane processing has been limited to running identical or nearly identical boards in each of the lanes. However, the new BTU dual-lane reflow ovens with independent lane speeds now make it possible to run boards with larger differences, simultaneously.
"Our Pyramax platform is a high-performance reflow system known worldwide for superior process results," said CoCo Zhang, product marketing manager for electronics markets at BTU. These improvements will enhance the system's productivity. Multiple speeds provide customers who have high-mix products the opportunity to maximize their operation.
"The high-efficiency flux management system further reduces downtime and is easy to maintain with automated feedback of servicing requirements," said Zhang.
PYRAMAX reflow ovens set the industry standard for thermal performance, providing electronics manufacturers with the highest throughput — and now increased flexibility — to compete successfully in today's challenging marketplace. BTU's exclusive closed-loop convection control provides precise heating and cooling control, constant heat transfer, maximum process control, and low nitrogen consumption, resulting in the lowest cost-of-ownership in the industry. PYRAMAX is the industry's most versatile performer and its best value.
BTU International
www.btu.com