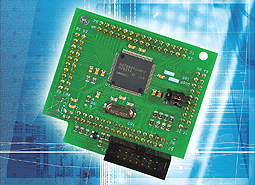 MSC presents its new ModSKD-RX62T Evaluation Kit. This new modular development kit, based on MSC's proven ModSKD development system, enables a fast and affordable entry into the world of RX600 microcontrollers from Renesas Electronics. The core of the evaluation kit – which, including debugger, sells for 129 euros plus 19% MwSt. (German Value Added Tax) – is a CPU module equipped with a R5F562TAANFP microcontroller (MCU). The 32-bit MCU from the RX62T Group, equipped with 256 KB flash memory, 8 KB data flash memory and 16 KB of RAM, offers numerous peripheral functions including two timers for motor controls, 8-channel 12-bit A/D converters, 12-channel 10-bit A/D converters, six programmable operational amplifiers, six comparators as well as a CAN interface and achieves a computing power of up to 165 MIPS at 100 MHz clock frequency.
The Renesas E1 Debugger provided can be directly connected to the PC via USB. The voltage supply of either 3.3 V or 5 V can also be achieved directly via the USB port. The feed pins on the headers of the R5F562TAANFP are available to developers as measurement points or for the connection of their own hardware extensions.
The kit is delivered with a test license of Renesas Embedded Workshop HEW4 and IAR Embedded Workbench EW32, software for the flash programming, programming examples with source text for UART, I2C and LCD, in-application flash programming, A/D converter, incremental encoder and numerous additional application examples as well as comprehensive documentation.
MSC Vertriebs GmbH
www.msc-ge.com