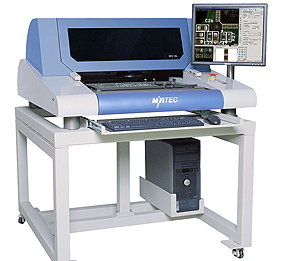 MIRTEC Europe announces that its MS-11 in-line 3D SPI System will make its UK debut at distributor TestWorks' Booth 711-717 during National Electronics Week 2011, scheduled to take place April 12-13, 2011 at the NEC Pavilion, Birmingham, UK.
The MIRTEC MS-11 In-Line SPI System uses Shadow Free Moire Phase Shift Imaging Technology and 'Phase Stepping Image Processing' to inspect solder paste deposition on PCB's post-screen print. Far superior to laser SPI technology, the MS-11 will inspect for insufficient solder, excessive solder, shape deformity, shift of deposition and bridging. The MS-11 is configured with an ultra-high-resolution Camera for enhanced image quality and superior accuracy.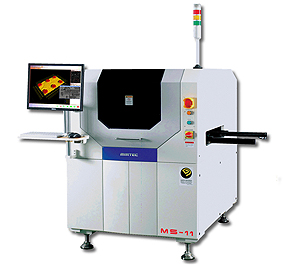 Image processing based on the Moire phase shift method is by far the most precise way of post-print solder paste profile inspection. This method projects light in grid or stripe patterns on the solder paste depot. The light pattern is being moved step by step along the depot and a downward looking high resolution CCD camera acquires the resulting images. The MS-11 uses a "shadow-free" construction where both sides of the solder paste depot are being inspected at the same time.
Among the most important advantages of the Moire technology are the superior resolution at determining the solder paste thickness and the impassivity towards external faults like irregularities of the PCB structure or towards contingent bending of the substrate. The final result is a highly precise 3D image from which the system can precisely calculate volume and shape of the depot.
TestWorks will exhibit MIRTEC'S MV-3L desktop AOI System complete with Side-Viewer angled camera set. The MIRTEC MV-3L is the industry's most widely accepted Five Camera Desktop AOI system. This system is configured with a Top-Down View Five Mega Pixel camera, with a Precision Telecentric Compound Lens and four Five Mega Pixel Side-View Cameras.
The MV-3L also features MIRTEC's exclusive Intelli-Beam Laser System. This advanced technology provides: Four-point height measurement capability for co-planarity testing of BGA and CSP devices as well as enhanced solder paste measurement capability. The system is powerful yet simple to use. A comprehensive Package Type Library provides simple "Drag and Drop" component programming. The Automatic Teaching Tool (ATT) software provides automatic teaching of component locations using CAD centroid data.
During NEW 2011, TestWorks will also showcase Scienscope's X-SCOPE 2300 130kV x-ray system, part of the X-Scope 2000 Series family. The X-Scope 2000 Series is a general purpose, high resolution, fully programmable x-ray system designed to address the nondestructive testing needs for failure analysis, research and development, process development, process monitoring and the ongoing support of electronics assembly, rework and repair. The X-Scope 2000 is a "batch" or manual type of x-ray system and includes a Windows based workstation (Capture X 2000) with multiple image processing functions for real time measurement and data collection. The X-Scope 2000 has an unbeatable price to performance ratio and many advanced features you would expect to find on a much more expensive x-ray imaging system. Scienscope has combined ease of use, excellent image quality and low price in the development and introduction of the X-Scope 2000.
For further information please visit our website at www.mirteceurope.com