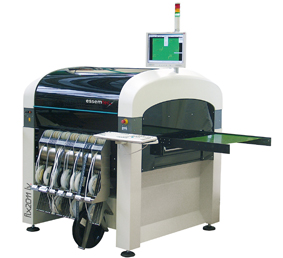 Essemtec, the Swiss manufacturer of production systems for electronics, strengthened its market presence in Eastern Europe by founding a new subsidiary in Warsaw, Poland in February 2011. Managing Director is Miroslaw Borkowski.
Following the strategy of other European markets, Essemtec has founded a subsidiary in Warsaw, Poland. Essemtec's target is to improve the direct customer relationship and to increase sales and marketing activities in Eastern Europe. Managing and Sales Director Miroslaw Borkowski knows Essemtec products well ― he has been working for PB Technik, Essemtec's representative in Poland.
While PB Technik continues to sell the Essemtec products as before, Essemtec Poland will focus on automatic production systems of higher capacity and speed. Essemtec Poland can offer real turnkey solutions for SMT production, including printer, dispenser, pick-and-place, reflow oven, storage systems, handling equipment and software including process know how, from one source, providing significant time and cost benefits to customers.
Essemtec Poland will exhibit the highly flexible and successful FLX2011-V pick-and-place on booth L-24 in hall 4 at the upcoming fair Automaticon, taking place in Warsaw from April 5-8.