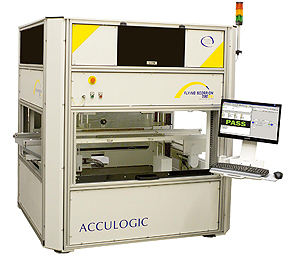 Acculogic's Manufacturing Test Systems Division, a global leader in electronics test production solutions announces that its FLS940Sxi has been selected for inclusion in The Innovative Technology Center (ITC) at the upcoming IPC APEX EXPO, scheduled to take place April 12-14, 2011 at the Mandalay Bay Resort & Convention Center in Las Vegas.
Assessed by a review board of industry experts, the FLS940Sxi was selected based on its representation of a new or emerging technology of significant value and relevance to the electronics manufacturing industry.
Acculogic's FLS940Sxi is a lower cost solution to the already powerful Scorpion Flying Probe Tester line. In addition to its no-compromise single-sided test capability, the system can be equipped with up to 10 variable or fixed-angle probe modules. The FLS 940Sxi offers multi-probe (up-to 11) testing with variable angles as well ScanProbeTM Technology, which facilitates Boundary Scan (JTAG) and digital testing on any flying probe.
The Innovative Technology Center will feature products and services at the show that represent new or emerging technology with real, relevant value to the electronics manufacturing supply chain for printed circuit board design, fabrication, assembly or test. The display will be located in the Bayside Foyer outside of the exhibit hall.
For more information about Acculogic's FLS940Sxi, visit Booth #1435 at the show or www.acculogic.com