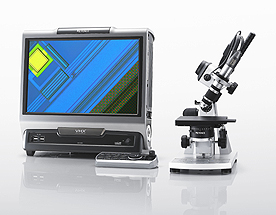 A-Laser, a division of FCT Assembly and a premier laser cutting service specializing in the ablation of ultra-thin metals and plastics, has purchased a Keyence VHX-1000 Digital Microscope for its Milpitas, Calif. plant in an effort to further improve the company's quality assurance capabilities.
"This piece of equipment takes our QA procedures to the next level, not only allowing us to take a closer look at every part we produce, but also to do so in a much more efficient manner," commented Josh Saunders, A-Laser's Regional Sales Manager.
The VHX-1000 not only integrates advanced functionality into a streamlined, all-in-one unit, but truly launches microscopy into the next generation. In the future, quick, accurate measurement and observation for the most challenging of targets will become a standard requirement for an observation system.
In one unit, the VHX-1000 encompasses a 17″ LCD monitor and high-capacity HDD. This design enables use in every scenario from portable onsite observation to high-resolution image capture. This unit is heavily used in various areas including research, development, quality assurance and manufacturing.
A-Laser is committed to delivering precise, high-quality laser cut products. The addition of the Keyence VHX-1000 will enable A-Laser to provide the highest quality assurance for the precision and intricate design demands of today's market.
For more information about A-Laser's capabilities, visit www.a-laser.com