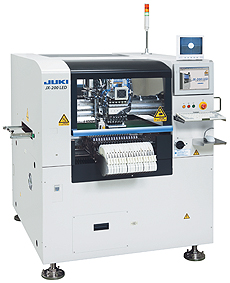 Juki Corporation, a world-leading provider of automated assembly products and systems, introduces the JX-200LED for the LED assembly market.
Targeted specifically for LED manufacturing, the JX-200LED features new algorithms created for the placement of side- and top-view LEDs, rectangular ferrite chip-type and PLCC-type LEDs, making it the ideal low-cost placement solution for LED chips in fast growing markets, such as laptop computers, LCD backlights and various lighting equipment.
The JX-200LED features a new upward looking camera for QFP/QFN lead inspection and BGA ball inspection, as well as 1200 mm board capability with multi-indexing. Additionally, the placement system was designed to be able to support a 31.5 x 14″ board size when indexed twice in the machine, and a 47.2″ board when indexed three times.
The JX-200LED placement system uses the same state-of-the-art, high-resolution, optical vision centering placement technology found throughout the entire Juki product line. Components are rotated 360? in the laser. Additionally, the system supports an automatic tool changer, which enables a variety of nozzles to be automatically changed during manufacturing.
With speed in mind, the JX-200LED can place 15,300 chips per hour at IPC 9850 and supports the placement of parts from 01005 to 33.5 mm2. The JX-100LED also features an optional tri-colored vision centering system that can be used for placing fine-pitch QFPs, BGAs and QFNs for added flexibility and accuracy.
All Juki placement machines come standard with a three-year parts and one-year labor warranty. They also include no charge for attendance at any regularly scheduled training course at Juki facilities, free machine software upgrades for life of machine, free 24-hour phone support and are supported by a world-class service organization.