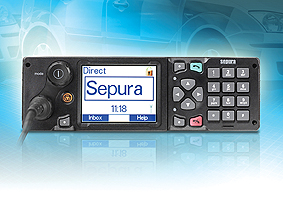 Selectronic, the specialist designer and supplier of display products, has developed a custom 2.8in TFT LCD for a new TETRA radio colour console produced by Sepura, one of the global leaders in this market.
Used predominantly by the emergency services around the world and in the transport utilities and commercial sectors, the TETRA standard facilitates reliable radio communication at all times and offers secure voice and data transmissions – free from the possibility of eaves-dropping.
Sepura's new SCC colour console offers a large, high resolution display which is used to view text, graphics and high quality photographic maps. The application calls for a display that can be easily read in widely-varying ambient light conditions from complete darkness to bright sunlight.
Selectronic's brief was to work with Sepura's engineers to develop a display that combines excellent viewing angle, high resolution, sunlight viewing and long-term reliability. Selectronic suggested the use of TMR (transmissive micro reflective) technology which enables sunlight readability combined with a low-power LED backlight that provides a 'night mode' yet avoids glare. The final design uses a modified a 2.8" TFT that had originally been designed to be used in portrait mode. Selectronic worked with Sepura to modify the TFT production process to optimise the viewing properties for a landscape orientation.
Selectronic
www.selectronic.co.uk