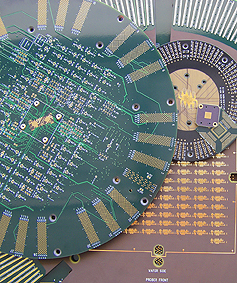 Multitest, a designer and manufacturer of final test handlers, contactors and load boards used by integrated device manufacturers (IDMs) and final test subcontractors worldwide, will exhibit its leading test solutions in Booth A45 at the upcoming Burn-in & Test Socket Workshop, scheduled to take place March 6-9, 2011 at the Hilton Phoenix East/Mesa Hotel in Mesa, AZ.
At the show, Multitest will showcase the most comprehensive portfolio of contactors on the market. The test socket portfolio covers the widest scope of applications for the full temperature range from -60? to 200?C:
• Bandwidth up to 40 GHz
• High power / high current up to 1,000 A
• KELVIN contactors
The portfolio includes contacting solutions for:
• All handler types
• Leaded and lead-free packages
• Array and in-line packages
• Small-pitch devices down to 0.25 mm
• Singulated test, strip test and WLCSP
The company also will highlight its ATE printed circuit board (PCB) design, fabrication and assembly resources. State-of-the-art production equipment and Multitest's long-term experience ensure reliable on-time delivery and industry-leading quality for advanced applications such as 0.4 mm pitch.
Multitest's burn-in boards provide the best performance for challenging applications.
Multitest
www.multitest.com