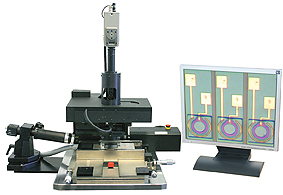 FINETECH will showcase the FINEPLACER® Lambda in Booth #58 at the upcoming IMAPS Device Packaging conference and exhibition, scheduled to take place March 8-9, 2011 at the Radisson Fort McDowell Resort in Scottsdale, AZ.
The FINEPLACER® Lambda is ideal for low-volume, prototyping and R&D environments requiring flexibility, precision, advanced technologies and the highest bonding placement accuracy (down to 0.5 micron). This versatile system can be used for precise placement, die-attach and advanced packaging utilizing various bonding technologies — soldering (Eutectic, Au/Sn, Indium), thermo compression, thermo-/ultrasonic bonding, adhesives and UV curing.
Applications include flip chip, 3-D packaging, MEMS, wafer-level packaging (C2W), optoelectronic and micro optics bonding and assembly, sensors, and more.
FINETECH
www.finetechusa.com