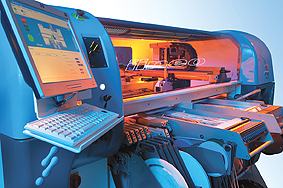 Europlacer, a designer and manufacturer of comprehensive SMT placement systems for the global electronics industry, debuts the iineo-II VLB. The dual-head iineo-II VLB is the latest enhancement to the Europlacer product portfolio, designed for the growing LED assembly segment.
Many LED commercial lighting applications require long PCBs that exceed 48″ in length. iineo-II VLB can process these PCBs under "one roof" at speeds often exceeding 20,000 CPH. The iineo design optimizes productivity in high-mix environments, while remaining competitively affordable.
The assembler can accommodate PCBs as large as 24″W x 63″L, making it ideally suited for handling LED PCB form factors, particularly industrial fluorescent lighting. Keeping with the Europlacer tradition of protecting its customers' investment, the VLB transport system can be quickly/easily converted from single stage handling to four-stage handling of large, typical sized PCBs (up to 18″ x 20″). This capability is unparalleled in the assembly market and will help to differentiate Europlacer technology along with its superior, overall flexibility. The iineo-II VLB is backwards compatible with all iineo-II machines. Additionally, the system offers a heavy PCB option for higher mass conveying up to 22 lb. The automatic conveyor offers full edge clamping, fiducial correction and features a SMEMA interface.
The new iineo-II VLB will be on display for the first time at the IPC APEX EXPO from April 12-14, 2011 in Las Vegas.
Europlacer
www.europlacer.com