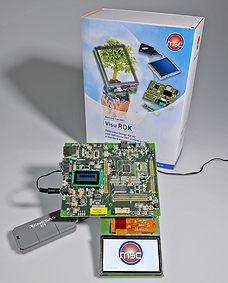 MSC presents its new Visualization Reference Design Kit (VisuRDK) in Hall 9, Booth 463 at embedded word 2011. The VisuRDK-RX62N-WQVGA Reference Design Kit is a cost-saving single-chip solution with which TFT displays up to a resolution of 480 x 272 pixels (WQVGA) can be directly controlled.
The core of the Reference Design Kit is a RX62N 32-bit microcontroller with up to 165 DMIPs computing power, 512 KB flash memory, 96 KB of RAM and a wide selection of different communication interfaces including six UARTs, an Ethernet interface, a CAN interface and two USB 2.0 full-speed (Host, Function and OTG) interfaces. A 4.3-inch (10.9 cm) TFT display with integrated capacitive touch controller, suited for industrial use, is Is also included in the kit.
Only about 5% of the computing power is required for control of the TFT displays. A further advantage of the VisuRDK-RX62N-WQVGA kit is that thanks to the high-performance on-chip peripheral units, most of the external devices required so far for TFT control are not necessary. This results in a significant reduction of the system cost for the user. The RX62N 32 based single-chip approach is therefore optimally suited for all cost-sensitive industrial and consumer applications in which a high-performance, but also low-cost, microcontroller must be used – but which at the same time due to its complexity requires a modern graphical user interface.
The kit also enables a quick and easy entry into graphics programming for inexperienced developers. With help of the graphics library provided and various program examples, not only can graphical interfaces be very quickly generated and tested, but can also be adapted to individual requirements within a very short time.
The software drivers are partly provided in source code. Driver software for the touchpanel is also available. In addition, the kit contains a complete microcontroller development environment including IDE, Renesas' HEW4 Embedded Workbench and a test license for C Compiler, an E1 USB Debugger, a complete cable set, a power supply and comprehensive documentation.