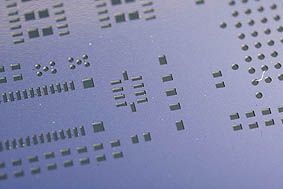 FCT Assembly is pleased to introduce the new UltraSlic™ Stencil with Nano-Coating. The addition of nano-coating to the UltraSlic™ stencil further increases the performance gap between it and any other stencil technology available today.
The UltraSlic™ high performance stencil technology has become the preferred choice when printing assemblies with challenging miniature components. The addition of a permanent, hydrophobic nano-coating to the UltraSlic™ stencil foil minimizes the ability of solder paste to stick to the stencil apertures and the bottom side of the foil. With the new nano-coating, up to a 10X increase in the number of prints before cleaning the stencil is possible, as well as successful printing at surface area ratios below 0.45.
"Our UltraSlic™ Stencil with Nano-Coating is the next level in stencil technology, allowing unseen levels of paste release along with all of the other benefits of a nano-coating. This will be the new standard that all other stencils will be measured against and is a credit to our dedication to being not only a stencil house, but rather a stencil company that believes in technology," said Mike Scimeca, President & CEO.
The UltraSlic™ FG stencil is the first laser-cut, solder paste stencil that has paste release performance comparable to electroform technology, yet can be cut and shipped the same day the order is placed. The UltraSlic™ FG stencil incorporates the latest advancements in stencil laser technology along with a new, cutting-edge Fine Grain stencil material from Datum Alloys.
UltraSlic™ FG stencils have lower standard deviations, higher repeatability and cleaner release of solder paste compared to other stencil technologies. A more consistent solder paste deposition, as well as a reduction in stencil cleaning frequency and rework results in higher yields and tremendous throughput improvements.
For more information about FCT Assembly's UltraSlic™ Stencil with Nano-Coating., visit www.fctassembly.com