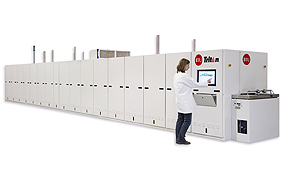 BTU International will debut its next-generation thermal processing equipment in Hall E3, Stand 590 at the upcoming SNEC International Photovoltaic Power Generation Conference & Exhibition. This event is scheduled to take place February 22-24, 2011, at the Shanghai New International Expo Center in Shanghai, China.
Introduced at the exposition will be BTU's new TRITAN™ dual-lane metallization firing system. This state-of-the-art system features increased throughput at 3600 wafers per hour, an edge-grip transport system and a temperature spike faster than 3 seconds. The 90 MW metallization firing system also features BTU's unique TriSpeed™ technology, allowing users to take advantage of superior ramp rates ― up to 200ºC per second ― while not compromising the drying and cooling sections of the profile. The three-belt, three-speed system provides revolutionary control of profile development.
BTU also will highlight its Meridian™ in-line diffusion system, the leader in in-line diffusion. This system is the industry's most successful in-line diffusion system with well over 2 GW in customer commitments.
For more information, visit company representatives in Hall E3, Stand 590 or go to www.btu.com