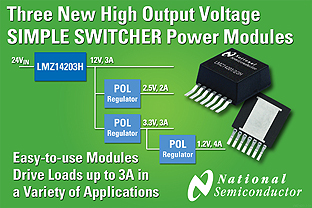 National Semiconductor Corp. introduced three new SIMPLE SWITCHER® power modules, the first to drive high output voltage applications in a variety of markets including industrial, communications infrastructure and military. The easy-to-use LMZ14201H, LMZ14202H and LMZ14203H power modules provide the efficiency of a synchronous switching regulator with the simplicity of a linear regulator, eliminating the external inductor and complex layout placement challenges typical of switching regulator designs.
The LMZ14201H, LMZ14202H and LMZ14203H accept an input voltage rail between 6V and 42V and deliver an adjustable and highly accurate output voltage up to 24V. A single resistor adjusts the switching frequency to enable greater flexibility of design.
Pin-to-pin compatible with other family members, the modules integrate a shielded inductor and feature efficiency up to 97 percent. The integrated inductor alleviates EMI concerns as the modules comply with both CISPR 22 Class B radiated and conducted emissions standards.
The LMZ14201H, LMZ14202H and LMZ14203H drive loads from 1A to 3A and are well-suited to generate intermediate bus voltages in systems using a distributed point of load (POL) architecture. High efficiency and excellent thermal performance make the modules ideal for systems without airflow. In addition, the products used in conjunction with an application-specific circuit can generate a -15V bias supply so audio amplifiers such as National's LME49880 achieve a wider dynamic range.
For more information or to order samples and an evaluation board for each of the modules, visit:
www.national.com/pf/LM/LMZ14201H.html
www.national.com/pf/LM/LMZ14202H.html
www.national.com/pf/LM/LMZ14203H.html
Packaging, Pricing and Availability
National's power modules are available now in a 7-pin, RoHS compliant, 10.16 mm by 13.77 mm by 4.57 mm package with exposed-bottom pad. Priced in quantities of 500, the LMZ14201H costs $6.50, the LMZ14202H is $7.50 and the LMZ14203H is $9.50.
For information on all of National's SIMPLE SWITCHER power modules, visit www.national.com/analog/power/simple_switcher_power_modules
A large selection of SIMPLE SWITCHER products is supported by National's WEBENCH Power Architect online design tool.
To begin a design, visit www.national.com/powerarchitect