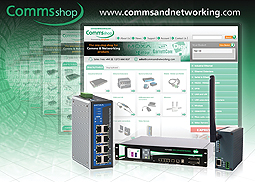 Amplicon unveiled Commsandnetworking.com, a fast, secure and user friendly web shop, tailored to provide customers with easy, online access to an extensive range of industrial grade data communication products from industry leading manufacturers.
On-line customers will find hundreds of infrastructure, gateway and conversion products suitable for almost any industrial application and budget.
Now customers can quickly and easily search through Amplicon's portfolio of world renowned products from industry leading manufacturers such as Moxa, GarrettCOM, Patton, Digi, Icron as well as the new EtherWAN product line from Axiomtek.
Detailed product information is presented clearly and concisely to help customers choose the right product for their application; and the Amplicon team of technical support & application engineers are on hand to provide further assistance if required.
Commsandnetworking.com provides easy on-line ordering via 128 bit SSL secure web servers along with HSBC certified secure transactions and Google checkout payment methods to ensure the customer's on-line shopping experience is as secure and simple as possible.
Michael Whitehead, Amplicon's Data Communication product specialist commented: "Online purchasing has become a practical necessity for many customers who want to streamline new and repeat business with us, users of this web shop will be pleasantly surprised to see how accessible our products now are and how efficient we have made this method of procurement."
Amplicon
www.amplicon.com